We are Open – Here is what you need to know
Update Friday 31st July 2020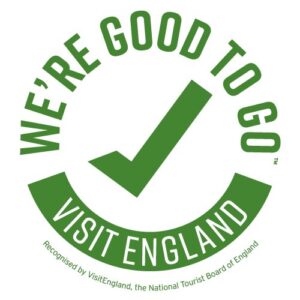 The Quiet Team is delighted to have received the message from Visit England that we are "We're Good to Go". New operating practices and risk assessments have been completed with the purpose of keeping everyone safe.  We look forward to welcoming you to stay soon.  Below is an outline of how we are operating at present:
– Seasonal Touring Pitch holders must use their own onboard facilities until further notice.
– We would prefer that touring caravans and motorhomes use their own use their own facilities if possible.                                                                                                      
-Camping pitches, VW's and small motorhomes can bring WC Tent at no charge.
The showers, basins and WC's are now all open. Please be alert while in and around the services and maintain strict social distancing. Spending as little time as possible in the shared service building is advisable. Please clean your teeth etc back at your pitch, Pod or Hobbit Hole. We are operating a strict cleaning regime which includes regular Fogging.
The bar will be open every night for seated guests with social distancing and a one way system. Masks to be worn when going to and from bar and tables.
The shop will be open through the outside serving hatch until further notice.
Please remember to send your contact info and names of group to trace@thequietsite.co.uk. This information will be destroyed after 21 days.
Until further notice we will not be allowing our guests to receive day visitors.
Please use the hand sanitisers as you enter and leave buildings.
All our guests need to be mindful of the community within which we operate. This is our community and is not to be put at risk.
The majority of you have visited us before so already know that without the support of our local community we could not operate.
Extra vigilance to provide generous social distancing and very slow driving along the access lanes is the minimum we would expect from our customers.  Anyone not abiding by this request will be required to leave.
The welfare of our team is also vital.  We will be providing contactless check-ins to all our guests. Face to Face contact will be at an absolute minimum. Our cleaning staff will be using appropriate PPE and fogging machines before and after cleans.
You, our customers will be provided with an environment where you can enjoy your holiday in safety. But you must be responsible for your own safety and consider the safety and wellbeing of all others at all times. There will be a  minimum 1m+ social distancing requirement at all times on site.  Anyone not abiding by this request will be required to leave.
The world is returning to a new normal and we are excited to be a part of it.  As ever we will be considering sustainability in all our business decisions.
Daniel Holder – Managing Director
Ideally situated in Ullswater, the very heart of Cumbria's Lake District National Park
Latest News
Keep up to date with all the goings-on from The Quiet Site
#thequietsite | @thequietsite